Contract Consulting and Contract Management

You would like us to manage your contract for as long as you are involved in the project? Two types of contracts are available. With our advisory services, we help you find the right contract for your involvement as an external specialist..
Contract consulting: case-by-case analysis for the right kind of contract
Since the aspects of each project can develop differently and your personal situation may also change, we examine your consulting circumstances individually. We then propose a contract solution that works for you and the client.
Six essential points feed into our analysis, e.g. your situation or the country and length of your of assignment.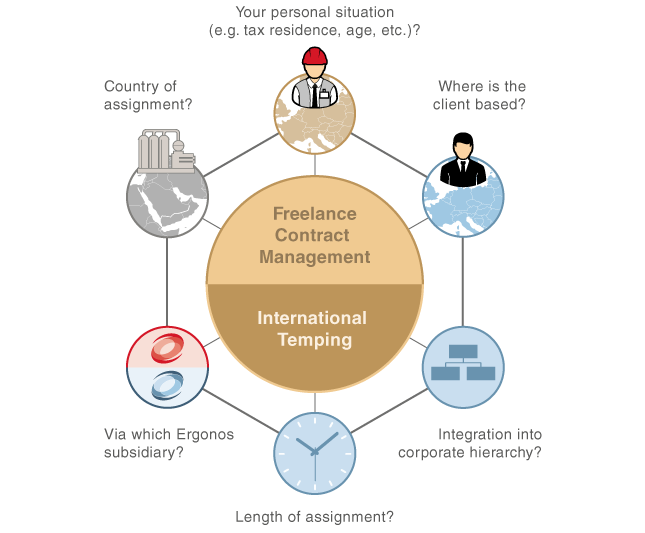 With international temporary employment, or administrative management as a freelancer, the entire spectrum of contractual requirements for your employment as an external specialist abroad is virtually covered.
International temporary employment: flexibility for your interim contract assignment even with permanent employment status
It might be the case that you can only work in certain countries as a permanent employee. With international temporary employment we have an instrument at hand for you and the client that still makes your flexible interim contract assignment as a specialist possible.
As a temporary employee you are employed by us, so you don't need to take care of invoices and taxes. Furthermore, with this contract type - according to your profile - contributions can be made to statutory pension funds.
Managing you as a freelancer: balancing of interests and administrative help
Ergonos has a background in managing freelancers - specialists who still wanted to keep active as early retirees. Some of these consultants still work for their former employers today. The old social network still has its advantages, but a relationship can be restrictive when it comes to agreeing on fair compensation that works for both sides – the freelancer as well as the client.
Ergonos has proven itself as a valuable mediator in this realm over many years. To every freelancer the timely payment of his invoices is important. Without a partner on his side, the balance of power can fall to the client. In contrast to the single individual, we have another approach as a business and help you to achieve the right balance.
As a freelancer you are highly independent, but you are also - in contrast to a temporary employee - responsible for your retirement and taxes. We lighten your workload, including the following: we help you with tickets, bookings, and invoicing. And of course we're the partner to contact even after the administration of your current contract assignment is complete.